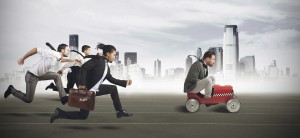 If you are interested in growing your reputation and your practice, then read on to see how we have done it before and will do it again and again for lawyers just like you that want to go to the next level with their law firm.
Let's start at the beginning.
Let's review the goals every lawyer wants to achieve with a law firm website:
First and foremost, you want people who land on your site to think of you as being really good at what you do. We call this being credible, responsive (and if my wife is reading this, a good listener too).
You want people to be impressed that your firm looks like you are in-step with the times and notout-dated. We aren't talking fancy here. Just fresh and modern looking.
You want potential clients and other attorneys (especially the referring kind) to perceive your firm as having some form of brand dominance in your local market (if not nationally).
You want to showcase the firm's expertise in at least one practice area (or more) by highlighting a history of experience and name dropping where appropriate.
You want a website that connects with potential clients and gives them the feeling that "you know what it's like to be in their shoes" and you are going to take care of them.
If you publish articles, you want a website that gives you a forum to brag politely about your success in getting printed (because this shows you are in demand for your opinion).
You want to produce more client leads.
You want to produce more referrals.
You want to have a website that Goldilocks would have said "just feels right" so that ultimately visitors would easily navigate from page to page as they journey through your site.
Get referrals from existing clients who learn more about thefullscope of your legal services.
If you have more than one attorney, you want to feature each attorney's profile with as much about their C.V. as manageable.
Your website should work on mobile devices just as well as large screens.
In laymen's terms we can encapsulate the entire list above into three core goals.
Visitors to your site should easily figure out:
What legal services you provide.
Who are the types of clients you attract.
Why you are better to work with than other relevant attorneys.
If you fully accept that your website should address these 3 challenges, then you should keep reading to see how we can do this for you.